FOR IMMEDIATE RELEASE
Contact: Katherine Cruise
Phone: 781-424-8535
Email: kcruise@empowersuccesscorps.org
Empower Success Corps Acquires
Executive Service Corps of Northern New England
Union provides expanded services to nonprofits in northern New England
BOSTON, July 25, 2018 — Empower Success Corps and Executive Service Corps of Northern New England announced today they are joining forces to offer an expanded array of program services to nonprofits in New Hampshire, Maine and Vermont. Empower Success Corps will acquire Executive Service Corps of Northern New England (ESC of NNE) and operate under the Empower Success Corps name.
For more than 35 years, Empower Success Corps has helped nonprofits build capacity through consulting, talent-matching, and professional development programs. Services are provided by experienced volunteer professionals and are available at a highly affordable rate. As of today, nonprofits and public agencies across New England will have Empower Success Corps as a resource.
"This acquisition is an exciting opportunity for strategic growth. As a result, we will be able to pool resources, expand services, and help nonprofits across all of New England operate more effectively to meet the needs of their communities," said Julie Crockford, Executive Director of Empower Success Corps.
Since 1999, ESC of NNE has been working with nonprofit organizations in Maine, New Hampshire and Vermont to improve their effectiveness by providing affordable management consulting. Their experienced professionals volunteer their time and expertise to provide capacity building solutions to help nonprofits grow.
Lynn Post, Vice Chair of the ESC of NNE board, said, "Nonprofits in NH, ME and VT will benefit from expanded services, more consulting resources, and the support of a large, vibrant organization with a shared mission. Our volunteer consultants gain access to expanded project and training opportunities. Our consultants will continue working with northern New England nonprofit clients, plus we'll be able to serve more nonprofits and grow our roster of consultants. We expect the transition to be relatively seamless."  Lynn Post will serve as Interim Director of the Empower Success Corps NNE office.
In the new organization, the NNE office will be responsible for business development, client support, and volunteer recruitment and management in New Hampshire, Maine and Vermont. The main office of Empower Success Corps will be responsible for consultant training and operations including bookkeeping, contract administration, CRM and communications. This structure will increase efficiencies and expand services and opportunities for both clients and consultants. David Ellis and Maggie Ford, formerly of the ESC of NNE board, have been elected to serve on the Board of Directors of Empower Success Corps.  The expanded business will serve more than 100 nonprofit organizations throughout New England each year.
About Empower Success Corps:
Empower Success Corps provides expertise to help other nonprofits succeed. With ESC, nonprofits have access to expert consultants, the talent to complete high-impact projects, professional development programs to foster creativity and growth, and support for those seeking more purpose in their lives as they transition out of their primary careers. "We envision a region in which all nonprofits have access to quality consulting and other services, so they can better accomplish their missions and improve the lives of residents in Maine, Massachusetts, New Hampshire, Rhode Island, and Vermont" said Ms. Crockford. For more information, visit http://www.empowersuccesscorps.org.
Fact Sheet
Additional Quotes
"A satisfied client since 2004, Ausbon Sargent Land Preservation Trust has engaged ESC of NNE for strategic planning, a market study, compensation review, and a donor support plan – all to help us protect more land.  They have a very practical business approach and are committed to helping us succeed. We are excited about ESC partnering with Empower Success Corps as it will strengthen their pool of consultants.  We look forward to our continued relationship and will be engaging their services for our next Market Study later this year."
~ Debbie Stanley, Executive Director, Ausbon Sargent Land Preservation Trust
"As the former Executive Director of NAMI NH (National Alliance on Mental Illness NH) and current member of the ESC of NNE Advisory Board, I look forward to the alliance between ESC of NNE and Empower Success Corps.  As ED, I used the services of ESC and found them competent, easy to work with, and reasonably priced — definitely a good value.  As a result of their work, NAMI NH was able to grow new programs and improve our impact on individuals and families affected by suicide and mental illness. This alliance will provide an opportunity to expand the reach of ESC in northern New England and provide competent, highly skilled assistance to nonprofit organizations."
~ Michael J Cohen, MA, CAGS, MJC HealthSolutions, LLC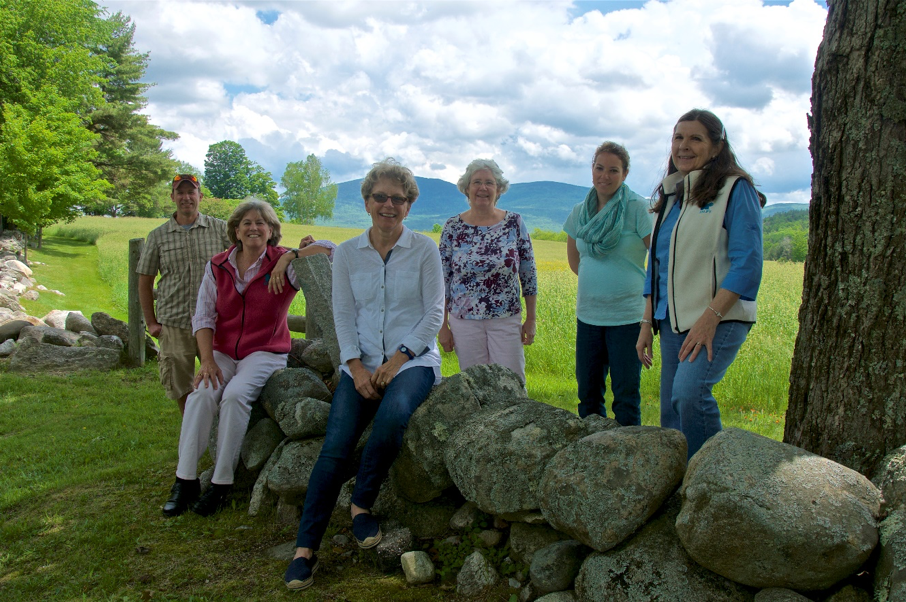 ESC NNE client Ausbon Sargent Land Preservation Trust
Executive Director Debbie Stanley (far right), and staff
At Emerson/Clark property in New London, NH, conserved by ASLPT,
with its spectacular view of Mt. Kearsarge
Empower Success Corps Services